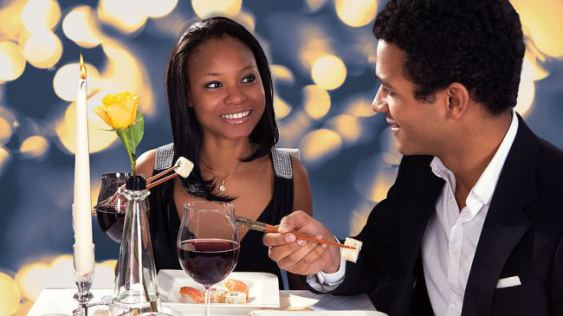 Blood gushing, heart beating, voice shaking and a lot going through your mind. "How do I get it right and keep him/ her? I need to impress my date to take things to the next level"……. Your mood is understandable, these tips will help you to calm down your nerves and do things the right way.
1. Don't try too hard to impress: I understand you could be agitated, tensed and will want to do everything to look your best to give a lasting impression on your first date, but have it at the back of your mind that simplicity carries the day when it come to first date. The simpler the better! A loud make up is a no no, keep it simple and clean, ponytail or a long straight falling hair is a turn on. For the guys , make sure you keep it clean and simple. A pair of clean Jean with a nice fitted(not too fitted)T-shirt is a good one. Whenever it come to your first date, anything with the word " too" is going to spoil things.
2. There's no alternative to smelling good: believing that you have understood that "too" is a no no, smelling good is a turn on. Ladies are easily attracted to a man that smells good and it makes a woman sexier for to men. Don't compromise that, get a very good and attracting perfume/cologne, you will be surprised that he/ she will keep smelling you after days of your meeting.
3. Add a little bit of sexiness: a little cleavage is not a bad idea, don't forget the word little, dress up in a way that attention is drawn to your "selling point". Men are moved by what they see, this is a useful fact anytime any day. Stylishly Drawing attention to your neatly manicured nails and broad shoulder is a plus for the men.
4. Don't talk about your ex or ask about his/her: I mean, who does that on a first date. The date is about you two and not a looser somewhere else, frequent talk about your ex is a sign of insecurity, especially when you say bad things about them. Don't do it, avoid it completely or it will ruin your date. If he/she asked about him/ her, casually talk about what happened in a pleasant manner and change the topic.
5. Don't over- order: when you are to choose your menu, keep it clean and simple. Don't order for a food you are not familiar with to avoid disgrace and of course don't under for what you won't eat , it's a sign of wastage. Do I have to mention that you should order decently, not shawarma, fried rice, chicken and chips, native soup and pounded yam , all at the same time, if you do, I bet that could be your last supper in that relationship.
6. Be honest and genuine: be yourself, don't pretend to be whom you are not, if your date raised a topic you are not familiar with, rather than committing blunders, show your readiness to learn, he/she will be impressed.
7. Don't ask/give in to sex: sex will not keep a man and pregnancy will not make him stay. Forget those telling you that sex on a first date will keep you in a man's heart, it's not possible. If you like tumble like Ronaldo on the bed or jump up and down like Serena Williams, no man will keep you just because he got into your honey pot on the first date. Men love to chase and conquer, don't deny him the privilege of doing that.
I WILL BE GLAD TO READ YOUR CONTRIBUTIONS AS WELL……YOU CAN GET THE COMPLETE DVD OF MY ARTICLES AT: http://intimatesolutionnetwork.com/new/?post_type=product